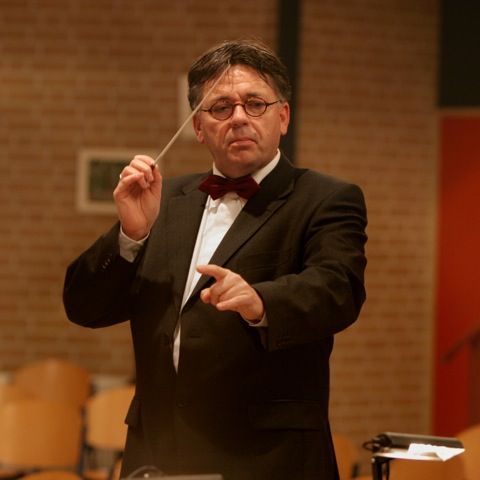 Over the years 2014-2020 QHarmony was led by Jan Nellestijn.
Conductor Jan Nellestijn started his career as a cornet and trumpet player in the then so called Johan Willem Friso Kapel in Assen. He studied trumpet playing at the Conservatory of Arnhem, of Peter van Loo.
During his studies he took various masterclasses, among other things with the wellknown Russian trumpet player Timofei Dokshitzer. Meanwhile he became increasingly interested in conducting and started a study for the first phase (Bachelor) of wind orchestra conducting.
In 1997 Jan was appointed bandmaster of the brass band "Fanfarekorps Koninklijke Landmacht" (FKKL) in Vught.
He took the second phase (Master) of his wind orchestra directing with Jan Cober at the Conservatory of Tilburg. This study was concluded with a spectacular final concert, in which both the wind orchestra of the Conservatory of Tilburg and the Fanfarekorps Koninklijke Landmacht took part.
In 2000 Jan was appointed chief-conductor of the FKKL. With this orchestra Jan Nellestijn reached many musical highlights. For example, he gave many concerts within and outside our country and the orchestra played in many world premieres of well known Dutch composers.
Jan Nellestijn worked together with a variety of soloists, among others Jasper van Rosmalen (violin), Esther Forschelen (hobo), Magaret Roest (soprano) and Rob van Reimersdal (clarinet). Several times Jan was a guest conductor at, among others, the Johan Willem Friso chapel in Assen.
He then began to increasingly conduct light music. An example is the cd "We're in the House", of which the title is a rap composition of Maino Remmers. During his period as conductor (until 2006) of the FKKL Jan created many transcripts and arrangements for the orchestra.
Since 2012 Jan studies composing at the Lemmensinstitute in Leuven, with Mr. Jan van der Roost. He now often writes arrangements, transcripts and even compositions for various ensembles. His latest work "Ode to Market Garden" is based on a poem of Sam Rubens and is written for symhonic orchestras and mezzosopranos. (± 16'00")
Jan is regularly active as a judge on festivals and often replaces the main subject teacher Conducting at the Prins Claus Conservatory in Groningen.