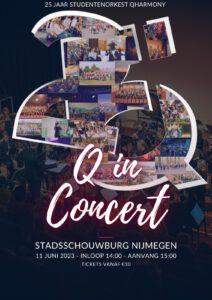 QHarmony celebrates its 25th anniversary with a grand lustrum concert on June 11 called "Q in Concert". The varied program includes our members' favorite harmony pieces before the break, and after the break, we will perform light music accompanied by a combo.
We would be delighted if you would join us in celebrating QHarmony's 25th anniversary during this concert! The concert will take place at the Stadsschouwburg Nijmegen and will begin at 3:00 PM. Tickets can be purchased through the following link: https://www.stadsschouwburgendevereeniging.nl/programma/7027/Q_in_Concert/QHarmony.
We hope to see you on June 11th!