Open rehearsal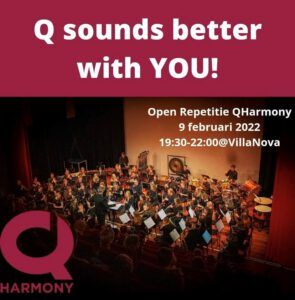 Would you like to make music with enthusiastic students and work towards spectacular concerts? And are you looking for a fun club to add to your student life? Come and play along at the open rehearsal of QHarmony! It will take place on the 9th of February from 19:30-22:00 in Community Centre Villa Nova, Derde van Hezewijkstraat 2 Nijmegen. You can register here, we hope to see you there!
Postal address
QHarmony
Heyendaalseweg 141
6525 AJ Nijmegen
Rehearsal address
Wijkcentrum Villa Nova
Derde van Hezewijkstraat 2
6542 JP Nijmegen
We rehearse every Wednesday evening from 19:45h until 22:00h.
Other
IBAN: NL60RABO0313994668
BIC: RABONL2U
KvK-nummer: 09110328
Privacy policy
Link